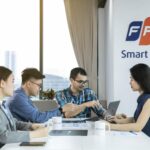 1. Job Description
Manage and supervise the company's sales policy, goals and plan for AI products such as Chatbot, Voicebot, OCR, eKYC,… 
Identify new business opportunities including new markets, growth areas, trends, customers, products and services. 
Having strategic thinking, analyzing the current business situation, predicting future development directions, thereby setting goals and promoting the implementation of those goals. 
Ability to build extensive relationships with C-level large corporate clients or through the company's partner network. 
Manage and assign tasks to department member to implement and complete KPI/ targeted goal or assigned. 
Understanding the company's products, working closely with product teams, presales, BA, PM, technical, marketing to successfully implement projects for customers or make bid documents. 
Actively follow up customers and close the deals, negotiate and negotiate contracts; sigh a contract;… 
Make reports to the Director of AI Business Center. 
2. Job Requirement
University majoring in Economics, IT 
Minimum of 1 year sales experience in B2B
Experience and knowledge in banking and finance is an advantage 
Good communication, presentation and persuasion skills with C-level customers 
Dynamic and creative 
Eager to learn and progress 
Fluent in spoken and written English
3. Top Benefits
Salary: Competitive, pay according to ability and business bonus. Negotiate directly during the interview.  
To be guaranteed social insurance and health insurance according to law.  
A creative, open-minded working environment that respects individual egos.  
FPT Premium Care  
Activities and culture with FCI and FPT Corporation 
Study support package for children of FCI union 
Sponsor related courses and certifications (recommended)
———————————————————————————————————————————
Ngo Viet Anh (Mr.) – Talent Acquisition Team Lead 
Email: AnhNV79@fpt.com.vn |   P: 0989613311
Skype: AnhNV (Anthony Ngo) 

FPT Smart Cloud (FCI) Co., LTD 
Address:
Hanoi: 7th Floor, FPT Tower, no. 10 Pham Van Bach Street, Dich Vong ward, Cau Giay district, Hanoi.  
HCMC: 3rd floor, PJICO Tower, no. 186 Dien Bien Phu, Ward 6, District 3, HCMC. 
Websites: FPT Cloud | FPT AI