Business Support Executive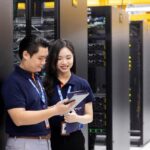 1. Job Description
Handling all supportive tasks related to sale activities:
Prepare Sale deck that aligns with each customer.
Conduct contract and related document.
Fulfilling and preparing for bidding and proposal.
Compiling daily lists of leads and delegating them to sales under manager advice.
Handling all administrative duties for the sales department or team, including scheduling and writing meeting records of internal conferences and meetings.
Providing assistance to salesman on their sale journey
Maintaining an accessible and organized filing system for sales and administrative professionals.
Performing data entry duties regarding metrics, sales figures and other key data.
Creating and processing sales reports in a timely manner
Scanning for new leads on public channels like the national bidding network.
Other projects/duties as assigned for the overall benefit of the team.
2. Job Requirement
Bachelor of Business, Economic
2+ years of experience in sale assistant, sale support, sale admin or equivalent positions.
Overall understanding of the Technology Industry (Especially Cloud and AI)
Experienced in working with bidding and proposal
Ability to plan and consolidate information.
Experience in working under international or professional organizations is an advantage.
Interpersonal skills:
Professional writing skills in both English and Vietnamese
Strong problem-solving skills
Excellent customer engagement skills
Project management skills
3. Top Benefits
Expected salary: Negotiable, open agreement
FPT Premium care
Activities and culture with FCI and FPT Corporation
Study support package for children of FCI union
Sponsor related courses and certifications (recommended)
———————————————————————————————————————————
Ngo Viet Anh (Mr.) – Talent Acquisition Team Lead
Email: AnhNV79@fpt.com.vn | P: 0989613311
Skype: AnhNV (Anthony Ngo)

FPT Smart Cloud (FCI) Co., LTD
Address:
Hanoi: 7th Floor, FPT Tower, no. 10 Pham Van Bach Street, Dich Vong ward, Cau Giay district, Hanoi.
HCMC: 3rd floor, PJICO Tower, no. 186 Dien Bien Phu, Ward 6, District 3, HCMC.
Websites: FPT Cloud | FPT AI
Xem thêm:
Senior Business Development
Business Development
Sales Cloud