Can VDI protect enterprise data from security risks?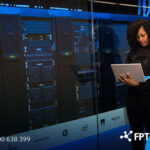 Is VDI (Virtual Desktop Infrastructure) – the virtual desktop service for businesses on cloud infrastructure safe?
The answer is certainly practicable if businesses choose a reputable, capable and reliable VDI solution provider. This article will explain how VDI can help mitigate risks and keep enterprise data safe.
Data risks mitigation
During and after the pandemic, as remote work becomes the norm and an essential component of the office environment, businesses also face surging cyber-security threats. As a result, there will be an increase in demand for strengthened data security.
Regardless of intentional or unintentional, remote work likely leads to data security holes since every employee gains access to the company data from any device such as mobile phones, laptops, or tablets. If any of these endpoint devices is crashed or hacked, the company data is at risk.
However, with VDI, by default, the servers are integrated with a firewall system and various Firewall upgrade options from major IT security companies that could guarantee the absolute safety of the system. Hence, if the endpoint crashes, gets stolen, or is hacked, administrators can immediately revoke the access right of that endpoint to ensure safety for enterprise data.
Data control
With VDI, not every employee has access permission to entire enterprise data. Administrators will manage data on an exclusive portal and adjust the allocated resources on the virtual desktop based on the specific needs and each user role. This facilitates convenient data control, guaranteeing that only users with access rights can access the application/file, avoiding the loss of crucial data such as contract information, customer and partner data.
Simple Backup
First of all, let's figure out why you even need data backup.
When OS or server crashes, you need data backup.
In case of disasters, you need data backup for work continuity.
For various other reasons, you need data backup for restoration at any time. With a traditional IT system, IT staff needs to regularly back up data on hard drives or specialized storage devices. This is manual, time-consuming, and potentially has unavoidable errors due to objective and subjective factors.
Thanks to VDI, all the works will take place in the Cloud centrally and automatically. Therefore, data backup becomes much easier, faster, and more secure. Additionally, the service provider will always back up this data at different sites to ensure that businesses can restore it at any time.
Multi-Factor authentication
Secure access is one of the core issues of remote work. VDI integrates multi-factor authentication (MFA) that guarantees user verification when accessing. Accordingly, each endpoint accessing the server will be required to provide an additional identity verification factor, such as scanning fingerprints or entering a code sent to phones.
In most identity attacks, the length and complexity of the password become meaningless. MFA strengthens internal and external firewalls for the most inclusive data protection.
Terminal data encryption
When businesses use VDI, any data sent from the Cloud to a user's terminal, including data at rest, is encrypted for improved security.
FPT Smart Cloud is currently providing FPT Cloud Desktop service. FPT Cloud Desktop is the name of the VDI service developed by FPT Smart Cloud based on VMware technology to provide virtual desktop services for businesses on FPT Cloud infrastructure, help replace conventional computers and offer a flexible working environment, increasing secrecy, data security, easy implementation, and rapid expansion according to business demand.
What are the outstanding advantages of FPT Cloud Desktop?
Strict compliance with the software copyright policy.
High availability, guaranteeing quick implementation.
Cost savings with Pay-as-you-go policy.
Security assurance with ISO/IEC 27001:2013 and ISO/IEC 27017:2015 certificate.
Remarkable promotion policy for customers during the pandemic.
Contact us for product advice:
Fanpage: https://www.facebook.com/fptsmartcloud/
Email: info@fptcloud.com
Hotline: 1900 638 399
FPT Smart Cloud – The leading consulting and solution provider on Cloud Computing and Artificial Intelligence in Vietnam.