FPT Cloud Desktop – Virtual desktop service for business continuity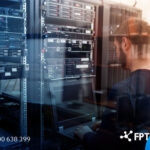 In the case of traditional desktop computers, users are encased in the office workspace, the management process is complicated and vulnerable, the implementation and maintenance are solely done, the operating process contains various potential data insecurity risks due to different subjective and objective factors. Fortunately, FPT Cloud Desktop will bring forth a whole new computer generation – the cloud generation.
Speeding up digital transformation
FPT Cloud Desktop is developed and operated on the cloud computing platform, allowing users to securely use data on their computers anytime, anywhere, on any platform, with internet-connected devices.
In business, cost-saving is one of the most crucial issues, especially for small businesses or start-ups. Instead of investing a large amount of money for servers and physical desktops, businesses only need to pay fees for virtual desktop service with the ability to grow or shrink quantity quickly according to demand.
For large businesses with thousands of employees, it is expensive to upgrade the software or replace hardware equipment, not to mention that it will be time-consuming for provider evaluation, procurement, installation, and maintenance. Virtual desktop service of FPT Cloud Desktop is the perfect solution to all of these problems with administrative function on an exclusive portal that can control and change resource allocation on virtual desktop depending on specific demand; allows resource sharing based on allocation on-demand mechanism, redundancy, and high availability that help optimize operational performance for businesses.
All the advantages of FPT Cloud Desktop will help businesses optimize their IT infrastructure, facilitate a quick, economical, and sustainable digital transformation process.
Inclusive configuration for powerful virtual desktop
FPT Cloud Desktop is developed based on VMware technology to provide virtual desktop services for businesses on FPT Cloud infrastructure. To provide virtual workstation services, FPT Smart Cloud has implemented a vast system including computing servers, SAN Storage, VMware license virtualization software, Windows Server license, network infrastructure, VPN, Internet, Self-adaptive and self-managing software systems such as self-service portal (automation)…
Some of the major components include:
| | | | | |
| --- | --- | --- | --- | --- |
| Terminal (Client) | Remote desktop connection manager | Virtualization Platform | Server Platform | Backup Storage Platform |
| Specialized VDI terminals (zero client, thin client compact, thin client…) to access virtual desktops. | VPN Gateway & Firewall system, MFA OTP 2-layer authentication security guarantees safety for remote access. | Developed on the Vmware License virtualization platform that supports allocation administration, implementation, revocation of workstations, or enforcement of policies during use. | Built on the copyrighted VMWare and OpenStack virtualization platform, implemented on the modern Data Center system of FPT. | Independently stored in 2 regions: Hanoi and Ho Chi Minh, meeting backup requirements for business demand. |
Meeting various business demand
FPT Cloud Desktop is a service solution that helps replace traditional computers, and especially in the context of complex COVID-19 pandemic, the service perfectly helps solve the issue of business continuity. Cloud Desktop can be applied in some of the following cases:
Demand for mobile working at any places without carrying around bulky computers, or increasing computing demand in a short period without investing in expensive hardware.
Temporary demand for computing performance is greater than available physical system capacity, or running applications that are not compatible with the operating system of physical devices.
Small businesses with low investment capital and no funding for hardware systems.
Disaster Recovery (DR): Helps businesses quickly set up a work environment for employees when physical access to office hardware is unavailable.
In businesses, FPT Cloud meets the demands of all users:
For administrators: Centralized management and monitoring on an exclusive portal, flexible adjustment of resources allocated on virtual desktop depending on specific needs.
For end-users: Access anywhere, anytime, on any device securely. A team of highly specialized technical staff will support and help handle problems 24/7.
For business owners: Reduce investment, operating, and personnel administrative costs. Pay-as-you-go.
Contact us for advice on particular policies for customers during the pandemic period.
Fanpage: https://www.facebook.com/fptsmartcloud/
Email: info@fptcloud.com
Hotline: 1900 638 399
FPT Smart Cloud – The leading consulting and solution provider on Cloud Computing and Artificial Intelligence in Vietnam.