Free 3-month trial for FPT Container Services and FPT Database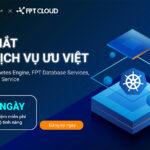 Within the scope of FPT Techday, the largest technology forum in 2021, FPT Cloud launched 10 new Platform-as-a-Service solutions – a platform for disruptive innovation, enabling businesses to simplify the application development process, synchronize technology, modernize the infrastructure, and accelerate digital transformation.
With comprehensive and diverse products and services, FPT Platform as a Service will allow developers to expedite building customized solutions with special help from advanced tools. The solution package comes with technologically standardized features and optimal quality to quickly initiate from the application to the database.
FPT Kubernetes Engine brings an open-source platform to automate administration, expansion, and application activation in the form of containers. The product has outstanding attributes, including flexible, customizable configurations; supporting container, micro-service applications; on-demand system scaling; automatic bug fixing; isolating resources by regions; holistic monitoring from the infrastructure to the platform. This service helps to eliminate previous manual procedures related to initiating and expanding containerized applications. Now, enterprises can automate operational activities and perform tasks to containers similar to other application platforms or administrative systems.
FPT Database Services provides automated processes: deployment, supervision, storage, recovery, expansion, and security. With FPT Database Engine, users are not required to have in-depth knowledge about database and are still be able to fully experience excellent features of the product:
Automating database implementation and configuration; integrating monitor and incident alerts. Within minutes, your system will be set up, configured, and optimized for use.
Quickly creating, increasing, or decreasing resources (by minutes). Hot-add without affecting the database operations.
Instantaneously expanding resources without impeding the database operations.
Periodically managing the data recovery and backup; automatically transferring data in case an accident occurs. Strongly integrating with the infrastructure and ensuring database efficiency.
The solution bundle containing 4 services Redis, mySQL, MongoDB and PostgreSQL will allow businesses to expeditiously build a database management system. Rather than investing in a server system and capital resources, firms only need to rent adequate configurations to their needs and are optimized by experienced database experts of FPT Cloud.
FPT AI as a Service offers "one-stop" AI solutions for comprehensive digital transformation.
Internationally qualified technology, suitable for many types of work-load.
Proactive multi-layer security
Centralized administrative interface for all services
Diverse, trend-setting service ecosystem
05 Artificial Intelligence services: Natural language processing, voice synthesis, voice recognition, live object detection, data extraction from the image, are developed and packed as application programming interfaces (APIs), ready for use, generating competitive advantage for businesses, thus, contributing to amplifying operations efficiency, enhancing customer experiences, and improving enterprise management effectiveness.
To celebrate the product launches, FPT Cloud offers the promotion "Free trial for FPT Container Services and FPT Database Services." In which, customers signing up during the promotion period will obtain:
Free administrative expense for 1 cluster in 03 months
Free storage expense for FPT Storage Services in 01 month
Free resources for the Cloud server in FPT Elastic Compute (CPU, RAM) in 1 month, then starting using the pay-as-you-go method 
Do not apply along with other promotions at the same time
Register HERE.
Outstanding advantages of FPT Platform as a Service:
Leading high-quality product and service system: Standardized technology, optimal quality, ready-for-use API to easily integrate and use, and the capability to simultaneously perform load balancing and backup
Diverse ecosystem, high availability: Integrating DbaaS, S3 Storage services with many utilities from the FPT ecosystem as well as our partners – VMware, Redhat, Veeam Backup & Replication, Security Checkpoint… for quick deployment and high effectiveness.
Agile implementation and support: A flexible model for deploying and supporting products and services, ranging from Cloud to on-premise basis to fulfill business demand. On-demand policy – Pay-as-you-go. 24/7 support from our experts.