Marketing Team Leader (Saigon)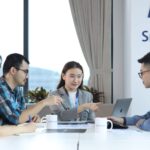 1. GENERAL RESPONSIBILITIES:
Head point for campaign implementation, representative working with channels, partners across 2 brands FPT Cloud and FPT AI
Implement multi-channel marketing activities to promote demand and brand recognition, including client workshops, industry events,
Develop suitble sales documents for each customer segment.
Develop detailed content and materials to deliver the product's value for each target customer.
Develop and conduct market research to outline how the brand's products and services correlate with competitors.
Other tasks as assigned by managers.
Build & develop Marketing team in HCMC, support other marketing and internal communication activity in HCMC office
2. REQUIRED QUALIFICATIONS/ EXPERIENCE:
Bachelor's degree in Marketing or related fields.
At least 3 years of experience in product marketing, content creation.
Skilled in data management and analysis.
Fluency in English.
Proficient in using Microsoft Office, Excel.
Experience and knowledge of software/IT is an advantage.
3. TOP BENEFITS:
Salary: up to 330 million/year
Full benefits according to current labor law.
Welfare policies according to the Company's regulations are diverse: Annual health check; FPT health insurance for employees (Financial support with medical examination and treatment costs at all hospitals); Gratitude activities, taking care of employees' mental health.
Friendly, open, respectful working environment.
Vacation: participate in large-scale cultural activities of the company and corporation as a whole.
Details to be discussed during the interview.
—————————————————————————
Ngo Viet Anh (Mr.) – Talent Acquisition Team Lead 
Email: AnhNV79@fpt.com.vn | P: 0989613311
Skype: AnhNV (Anthony Ngo) 

FPT Smart Cloud (FCI) Co., LTD 
Hanoi: 7th Floor, FPT Tower, no. 10 Pham Van Bach Street, Dich Vong ward, Cau Giay district, Hanoi.  
HCMC: 3rd floor, PJICO Tower, no. 186 Dien Bien Phu, Ward 6, District 3, HCMC. 
Websites: FPT Cloud | FPT AI 
Xem thêm:
Product Marketing Executive