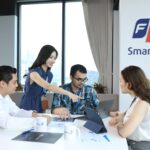 1. GENERAL RESPONSIBILITIES:
Thorough understanding of the latest AI product: NLP, Voice, Vision, eKYC …, operation methods, operation and application to businesses. 
Simultaneous management of AI projects deployed for customers in domain fields: Banking, Finance, Insurance, … 
Participate in all stages of an AI project: Bid evaluation, PoC implementation, Pilot, official project implementation. 
Build project plans, communicate with Customers regularly, monitor the work of the implementation team and ensure the quality project delivery process according to the plan. 
2. REQUIRED QUALIFICATIONS/ EXPERIENCE:
At least 3 years of working experience in a similar position 
Thorough understanding of the Project Management process' standards 
Experienced in project management with a corporate's client 
Experienced managing multiple projects at the same time 
Ability to research, read and write documents in English 
Other priority conditions: 
– PMP certificate 
– Experienced in AI 
3. TOP BENEFITS:
Expected salary: Negotiable, open agreement 
Working in the most advanced field today, AI is a product invented and developed by FPT in the past 5 years 
Working with AI in many different fields, from there, have a deep understanding of the big AI picture in Vietnam 
Advancement opportunities: recruited personnel can follow a promotion path to become a company-level Key Delivery Manager  
FPT Premium care 
Activities and culture with FCI and FPT Corporation 
Study support package for children of FCI union 
Sponsor related courses and certifications (recommended) 
—————————————————————————
Ngo Viet Anh (Mr.) – Talent Acquisition Team Lead 
Email: AnhNV79@fpt.com.vn |   P: 0989613311
Skype: AnhNV (Anthony Ngo) 

FPT Smart Cloud (FCI) Co., LTD 
Address:
Hanoi: 7th Floor, FPT Tower, no. 10 Pham Van Bach Street, Dich Vong ward, Cau Giay district, Hanoi.  
HCMC: 3rd floor, PJICO Tower, no. 186 Dien Bien Phu, Ward 6, District 3, HCMC. 
Websites: FPT Cloud | FPT AI